Filter by Category
Elementary
Registration Unavailable
Puppetry Skills (Gr 3-5)
with Dylan Bailey

Jan 25, 2021 at 4:30 pm

, runs for 6 weeks
Students will engage in the art of puppetry through creating three different types of puppets and learning basic puppet manipulation skills. Part making, part performance, this class will engage students in creating dynamic puppets with specific character traits. All required crafting materials will be provided in kits available to pick up at RLT, or mailed if distance is a barrier. No class Feb 15.
Registration closes Jan 15 to ensure supply availability!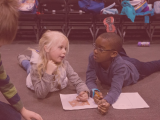 Drama Quest: Wizarding School (Gr 1-3)
with April Perry

Jan 27, 2021 at 4:30 pm

, runs for 6 weeks
In this new class, students create their own characters as they move through a process drama based on familiar fictional worlds. Each week a new part of the story unfolds, students practice group problem solving skills in the world of the drama, use their imagination to move the story forward, create and act out original characters, and are left with a cliffhanger ending at each class.
Full Course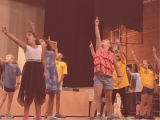 Creative Movement (K-2): Under the Sea
with Karen Warr

Jan 28, 2021 at 4 pm

, runs for 6 weeks
Explore a new theme each session through movement, music and story. This class will have students up and moving each class, as they explore different elements of dance, movement and self expression. Students will practice and develop body awareness and stretch their imagination as they create original movements and dances based on stories, music and their own ideas.